Custom Millwork • Cabinets • Fine Woodwork
R. L. Cushing Millwork Co. Ltd. has served the communities of the prairies and have created a reputation of success. This is evident by the countless testimonies of happy customers and organizations, for whom we have installed custom cabinets and spectacular designs.
We work relentlessly to gain your trust and secure your confidence. We are not satisfied until you are. Whether you have a requirement for standard production or a unique set of specifications, we are willing to work with you to meet your budget and exceed your reputation.
All of the products and services are 100% guaranteed. The standard warranty, which is included in all of our services, provides you with a year of inspection and replacement of products. We have extended warranty and you can rest assured that your full satisfaction is our guarantee.
Services
At R. L. Cushing Millwork we excel in custom millwork design, such as kitchen cabinets, custom commercial projects, or expert woodwork details. Our work starts with a professional customer service and design team who will work with you to meet all your cabinetry needs. We utilize state-of-the-art technologies, expert staff, and quality materials to assemble highly durable, and attractive, cabinets and casework.
Superior Materials & Ergonomic Design
Cabinetry, also known as casework, is the main service we provide. For both residential and commercial projects we have designed beautiful kitchen cabinets, bathroom vanities, and more. We exclusively use premium materials for our cabinetwork, using any combination of high-quality laminate finishes, thermally fused melamine, and wood products.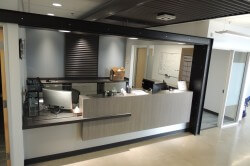 Stylish, Handmade, Quality Craftsmanship
Our talented staff can construct a custom desk or counter out of almost any material and in any configuration. We strive to construct high quality desks that fulfill all our client's needs. If your looking for professional look for your business, send your drawings and specifications to us using the contact form below, or give us a call at (306) 692-2396.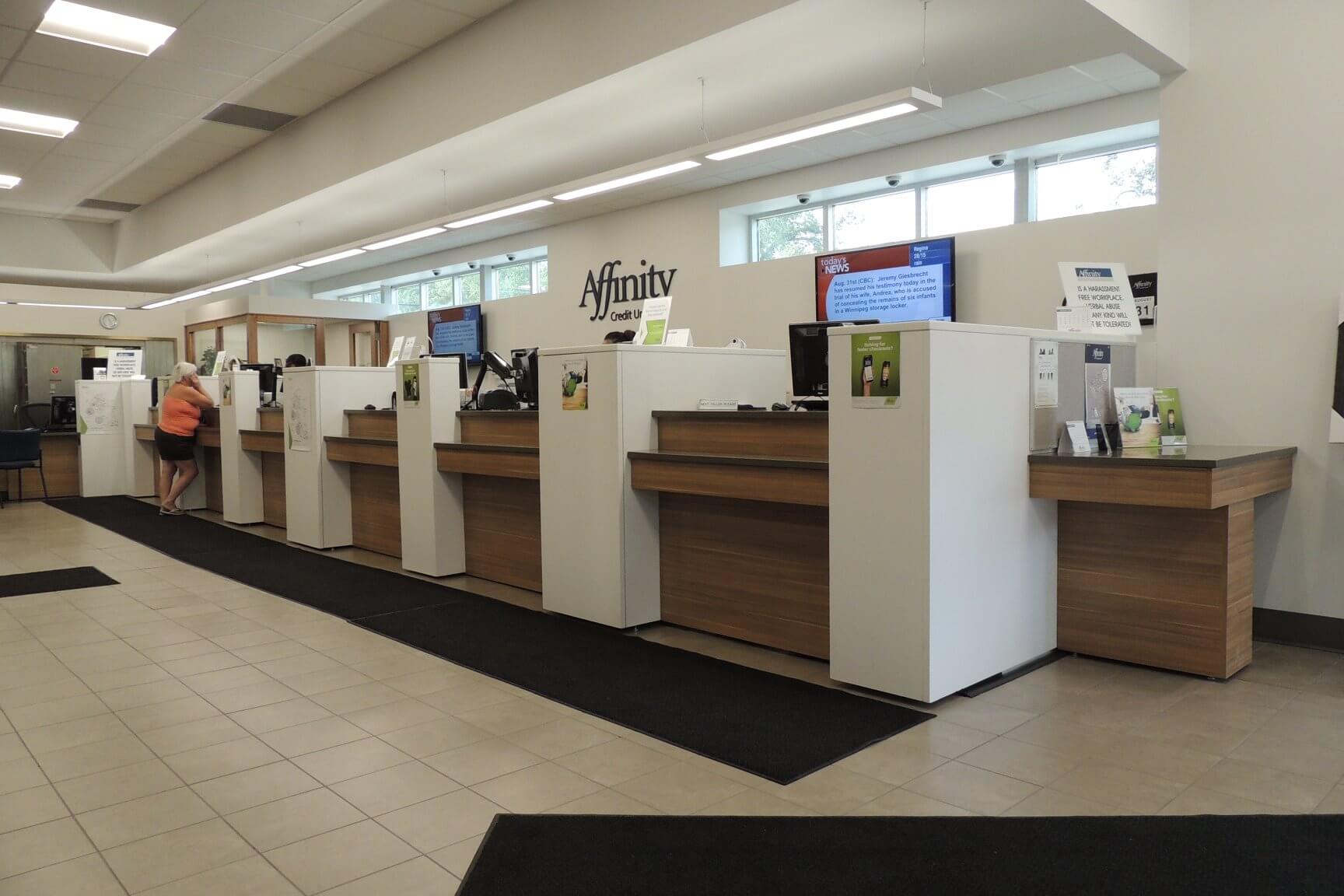 Built By Experienced Professionals
Our list of projects we have constructed custom woodwork for is both various and numerous. They include teller stations, library check-out desks, cheque desks, display cases, and many more. Custom woodwork gives off an air of professionalism that is unmatched. Let us help you create a welcoming environment today.
We're Here To Help
Our service is unlimited and we are keen to deliver projects of all sizes. Our work starts with professional customer service and staff who are eager to work with you to meet your millwork needs. State of the art technologies, expert staff, and quality materials will aid us in delivering quality work. Our streamlined production process provides a timely, ready for installation.
Over A Century of Experience & Expertise
The history of R.L. Cushing Millwork Co. Ltd. dates back to the early 1900's when we our first factory was erected around 1910. The main products that we had offered at the time were Masterbilt wood doors, windows, moldings, furniture, Cafe and Office fixtures.
Over several decades the factory grew and changed to suit the new product lines. Within the early 1980's the factory was still located in the same location. The products that were offered had narrowed to Masterbilt wood windows, moldings, and Architectural Woodwork.
By the early 1990's, the product line once again narrowed to only Architectural Woodwork for commercial and institutional projects. In the fall of 1998, we had constructed our new factory on the same location with the current product line in mind, streamlining our production process using state of the art, computer guided machines and sophisticated software.
R. L. Cushing Millwork Co. Ltd. is dedicated to the needs of our customers, employees and partners who continue to support and share our success. As such, R. L. Cushing Millwork Co. Ltd. is committed to the production of high-quality products, timely delivery, and professional service
Work from specifications, with durable and elegant materials.
Work from specifications, with durable and elegant materials.
Work from specifications, with durable and elegant materials.
Supporting the practices of our partners.
Community
Making contributions to our community.
Utilization of industry best practices, reliable techniques and technologies.
Environmental Responsibility
Protect • Restore • Sustain
R. L. Cushing Millwork Co. Ltd. Is focused on protecting the environment and natural habitats. We implement and improve environmentally friendly guides such as CaGBC and LEED standards. The Leadership in Energy and Environmental Design (LEED) Green Building Rating System™ is an universal certification program and an internationally accepted benchmark for the design, construction, and operation of high-performance green buildings. LEED provides tools and immediate measurable standards for sustainability by recognizing performance in five areas of human and environmental health.
Standard Warranty & Guarantee
As a charter member of the Architectural Woodwork Manufacturers Association of Canada, R.L. Cushing Millwork Co. Ltd. conforms to the AWMAC-AWS standards for all projects. We also offer the AWMAC – Guarantee and Inspection Service (GIS) by request.
The objectives of AWMAC G.I.S program are:
To assist the design authority in achieving "Good Architectural Woodwork".

To offer the owner, customer, design authority, and woodwork contractor an assurance that strict monitoring of the architectural woodwork requirements on a given project will meet the specified AWMAC Standards.
R.L. Cushing Millwork Co. Ltd. also offers extended warranty for requested projects. The terms of the extended warranty are unlimited and are negotiated with our customers during the project cycle. The extended coverage ranges between 1, 3, and 5 years after the standard warranty period and depending on the requirements of our customers. Contact any of our representatives for more details.
R. L. Cushing Millwork Co. Ltd. is committed to building and improving relationships with organizations on whom we depend on to serve our customers.